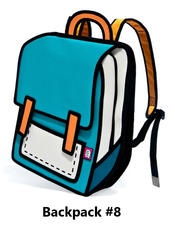 What happens to all our garbage?  Time time to learn and participate in three hands-on waste reduction activities that explore the idea that everything we throw away goes somewhere. Investigate how to recycle and reuse items so that we make less trash.
Even when schools are closed, you can keep the learning going with Scholastic: Learn at Home cross-curricular journeys. Every day includes four separate learning experiences, each built around a thrilling, meaningful story or video.  Designed for Pre-K through 9th grade, students can do them on their own or with their families. 
The Strategic Air Command (SAC) & Aerospace Museum utilizes over 300,000 square feet of exhibit, education, and event space to educate, inspire, and entertain its guests who come from Nebraska, across the country, and around the world.  While you can't come to the Museum physically at this time, check out their Education Creations for online content and activities to educate and entertain you at home! 
Reduce waste and recycle your cardboard by creating sculptures!  Recycled cardboard sculptures will show off your creativity by making abstract art or animal sculptures...the sky is the limit with your sculpture designs!
And finally, use what you have learned from your Waste Reduction activities and take time create a poster about "What makes the Earth so special". In this activity from PBS Kids, you will create a poster that challenges you to celebrate and protect our amazing planet.