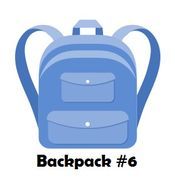 Learn about kitchen chemistry through three hands-on activities developed by UNL students in another BSB Design Intensive.  Youth can get hands on experience with basic chemistry concepts through these awesome activities investigating solids and liquids and exploring heating and cooling, showing you how science can help you become a better cook!
Rube Goldberg Bar of Soap Challenge – even if you don't know them by name, you know the Rube Goldberg machines – unnecessarily complex machines built to solve simple problems.  The resulting fun machines are a great way to teach basic engineering and design concepts.  In response to the COVID-19 crisis, the Rube Goldberg Foundation is sponsoring a national challenge to get youth to design and build machines that require between 10 – 20 steps to drop a bar of soap into you hand.  See the attached PDF in the link above for information about how you can enter this national competition and win prizes.  Also note that BSB will be providing prizes for Nebraska youth who enter a video of their project in this national challenge.  See the attached material for more information and when you have filmed a short video of your Rube Goldberg machine, send it to bsbchallenges@nebraskachildren.org so you can also be entered in a Nebraska-specific prize.
VentureLab, a BSB partner, is a national leader in helping kids develop the entrepreneurial mindset they need to succeed in business – and in life.  VentureLab'a innovative and fun entrepreneurship curriculum, training, and programs help students develop skills and the mindset that youth today need and allow them to learn these mindsets in a fun and engaging activities.  In response to COVID-19 and school shutdowns, VentureLab is providing free on line resources and videos specifically tailored to a remote learning environment! Check out their Remote Learning Series and downloadable workbooks for practical, engaging, thought-provoking activities. 
Tired of being stuck in your house and eager to get out and enjoy the natural world?  To help you meet this need as best they can during this challenging time, the Lincoln Children's Zoo has launched Keeper Corner, a new Facebook daily video series, that is available for free along with a fun activity. Zookeepers will talk about the animals they take care of giving viewers the opportunity to connect with and learn about animals.
Put your engineer skills to use and build a stick raft.  Can you build a raft that really floats? How much weight can your stick raft carry? This STEM engineering challenge is fun for kids and a great way build engineering skills and engaging with nature.
And, finally, take time to go on a nature walk and enjoy the spring weather.  Collect bits and pieces of nature and then create a nature suncatcher with materials found at home.