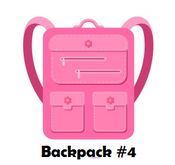 The three Sports Science units for K-2 grade youth contained in this week's backpack were taken from a larger curriculum developed by UNL students working on a BSB-sponsored design intensive to develop simple activities introducing key engineering concepts.  The resulting curriculum expands on the popular PBS series The Ruff Ruffman Show with a series of engaging, hands on experiences exploring gravity, motion, and friction. 
Curious K-12 learners and explorers can travel through a curated collection of educational experiences from the on-line archives of a venerable 132-year old scientific and educational powerhouse - The National Geographic Society.  Nat Geo activities and online experiences are available for free on their Learn at Home website. With minimal supplies needed, these activities will keep learners' minds engaged in social studies, geography, science, and more.  Also, visit their Explorer Classroom site every weekday at 2:00 p.m. EDT.  Explorer Classroom's live video events connect students with National Geographic Explorers across all seven continents to bring exploration to life.
BSB partner University of Nebraska Extension is the home to a prized national resource: Click2Science PD.  Click2SciencePD provides  video-rich professional development experiences allowing non-STEM professionals (parents included) with the tools needed to create positive informal STEM learning experiences for youth. Visit their website for staff development guides, self-directed web lessons and webinars.
NEBRASKA AFTERSCHOOL & SUMMER PROGRAMS:  We encourage afterschool staff to participate in the Click2Science April training series, specifically designed to increase staff's ability to deliver top-notch making and tinkering activities. Click2SciencePD is offering free registration to Nebraska afterschool and summer programs for this training series--use the codes Click2All (all three sessions) or Click2NE (single session).  Register here for one, two, or all three FREE 60-minutes interactive, hands-on, research-based sessions.   
FutureKids is an Omaha-based youth development non-profit providing opportunities to spark healthy, active lifestyles through afterschool and summer soccer & fitness clubs. In response to our current crisis, FutureKids identified some easy to use Soccer 101 resources that families can use to keep children active during this time of at home isolation.  Take some time and check out one of their favorite at-home soccer training guides! 
Spring is here...make a bouquet of paper flowers!  With only a few simple supplies found at home, your kids can enjoy creating beautiful spring flowers!
Finally, gather your recyclables, junk and craft supplies and create a junkbot!  This fun activity allows for your kids to get creative and make robots out of junk!