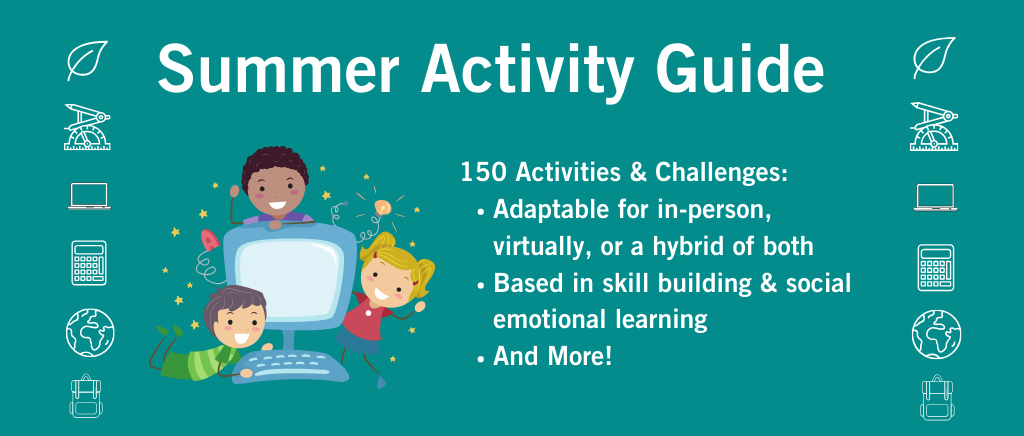 The Summer Activity Guide is a suite of fun and engaging activities and challenges designed specifically for this atypical summer.
Youth development and summer learning providers across Nebraska and the country are preparing for a summer filled with uncertainty and stepping up in innovative ways to support youth, families, and communities. We have heard your concerns about how to maintain engagement throughout an atypical summer, and we understand your anxieties as you navigate these uncharted territories. 
Beyond School Bells is providing this free Summer Activity Guide, developed in partnership with the 50 State Afterschool Network and the Georgia Statewide Afterschool Network, to engage and support children and youth in summer learning. Based in skill building and social emotional learning, the suite of fun and engaging activities and challenges was designed specifically to accommodate COVID-19 summer. We hope that as you read this, you will feel that planning for summer just got a whole lot easier.
150 Activities and Challenges

Segmented by (5-9) (10-12) (13-15) (16-18)

Adaptable for in-person and virtual instruction, or a hybrid of both, as well as sent as take-home packets

Based in skill building & social emotional learning
Strategies to Implement Activities in Different Settings

Safety Considerations for Virtual Facilitation

How to Recognize Signs and Symptoms of Stress & Trauma in Youth

How to Manage Staff Stress and Self-Care
Supporting Youth at Home

Supporting Virtual Summer Programming in the Home

Recognizing and Managing Stress in Youth
Implementation Videos for each unit, including how to modify lessons and support families at home.

Getting to Know the New Summer Activity Guide 

Keeping Youth Engaged this Summer