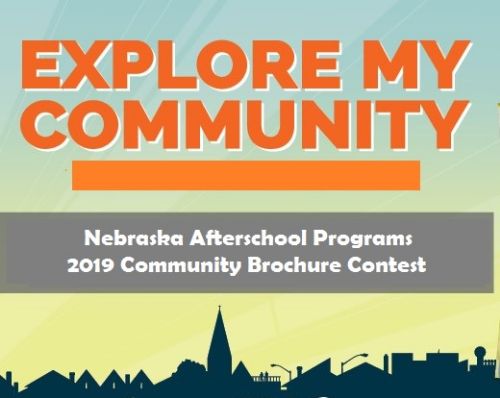 Explore My Community: NE Afterschool Brochure Contest
Statewide competition for the October 11th, 2019  "Get Connected" Nebraska Afterschool Conference in Kearney, NE.
What is this competition?
This is a project-based learning opportunity for students in your afterschool program to participate in an innovative, hands-on project that highlights their community—and an opportunity to compete against other afterschool programs to win 1st, 2nd or 3rd prize in the competition.  All student groups that participate will receive a pizza party at their afterschool program and a certificate for their participation in the competition.  
This competition is organized by Beyond School Bells, Nebraska's statewide afterschool network. 
What grades are eligible?
There will be two categories in the competition:
(1)   Elementary, 2nd-5th grades  (2)   Middle School, 6th-8th grades
Overview
Elementary and middle school students participating in their afterschool program will create a digital brochure introducing their community to youth they think would like to move to their community.   We highly encourage that your program partner with a high school class/club/students (CTSO, Yearbook Club, Honors Society, etc) to help guide the afterschool students in their production/creation of this digital brochure. 
Why partner with high school organizations/students in this project? 
High school students have a lot to offer afterschool programs—they contribute energy, expertise and appeal to younger students!  Further, high school students can serve as quality program staff for your program and help to fill the staffing shortage that so many programs are facing.  This project is an opportunity to begin building a partnership with your local high school—and helps to strengthen existing high school partnerships for programs that already have this connection in place. 
As this is a brief, time-limited activity—it is acceptable for only a few high school students to help with this project.  This project would only require a couple volunteer hours of their time—this is an opportunity for high school students to serve as "mentors" and provide support and feedback to students in their making of the brochure.  Specifically, the high school students can provide their expertise and guidance in how to electronically design the brochure.  If the HS students do not have expertise in this area, they can serve as a "sounding board" and have the afterschool students present their pictures/text/ideas for the brochure and get constructive feedback on how to improve the content.
Activity Overview
Working as a team, afterschool students will select important places and aspects of their community to highlight. The brochure should include brief descriptive text and images that the students take themselves and, if needed, downloading appropriate images from the internet. The product should be digital – something that can be shared in a pdf.  Students may use powerpoint or other presentation platforms. The digital product involves inserting photos, writing and placing captions and descriptions, quotes, and creating effective headlines.
The finished piece should be thoughtfully laid out, easy to read and effectively organize and present highlights of their community to visitors.   
Implementation
Students should focus on and form opinions about how travel brochures influence people to visit the destinations that produce them.  Provide the students with a few examples of travel brochures (can be viewed on internet).  Further, have the students focus on the types of things that appear in travel brochures to interest people and how they are presented. Ask the students to volunteer their ideas about the aspects of the brochures they liked and those they feel could be done better. Ask them how they would improve the brochures.

Inform the students that they will be creating a similar brochure, albeit electronic, for their own community and that they should think about the things they want to include how they will present them. 

Have the students draw up a list of things they'd like to share with others about their community. What things do they like to do in their community? Which places do they like to visit? Are there stores, restaurants, parks, interesting buildings, and other things that they would like to share with others to convince them to visit the community? 

For each place listed, have the students visit  that place to take a digital photo of it, research and collect a photo of  it from the web, or draw their impression of it and scan their drawing. 

Have the students write up a short description of each of the places they chose to include in their brochure. The description should reflect why they feel it is a community highlight, or why they feel it is special or appealing. 

The students then insert the graphics, text, and headlines on each side of the brochure adjusting the size, style, and location of each until an effective, attractive design is achieved for a community brochure that includes as many of the student's ideas as is practical presented in a way that communicates them effectively.
Questions for students to ask as they are creating their brochure:
Is the community clearly identified and characterized?

Are the facts correct and are quotes correctly attributed? 

Does the information given in the brochure serve to inform about the community, providing insights into what is to be found and what experiences it may offer?

Does the arrangement and presentation of the elements included in the brochure reflect artistic choices to create an attractive and expressive product? 
Time Expenditure 
This project should take roughly 2 weeks to complete—it can easily be accomplished in 8-10 hours of afterschool programming.  This can be an activity that is done within an already existing club—or you can have students do this project instead of their club activity for the timeframe of this project.  For example, students could meet for 1.25 hours, three days a week for 2 weeks and complete the project.  High school students could volunteer on day 3 and day 6 of the club meeting.  Or they could volunteer for the last two meeting times of the group (day 5 and 6). 
Submission and Deadline
All brochures must be submitted by 5pm on Tuesday, October 8th, 2019.  Please email your submission to Jennifer Jones at jjones@nebraskachildren.org
Additionally, please contact Jennifer Jones with any questions regarding the contest.