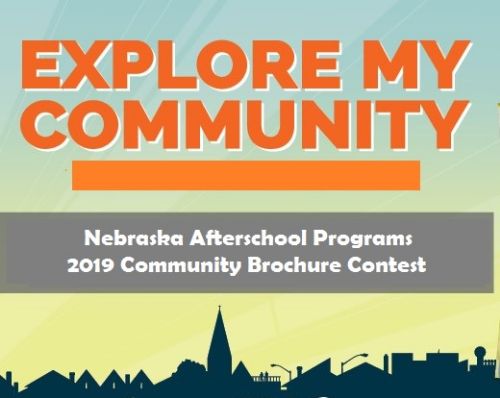 Explore My Community: NE Afterschool Brochure Contest
This BSB statewide competition was previously held, we encourage you to utilize the information below to organize a similar competition in your program/community.
What is this competition?  This is a project-based learning opportunity for Elementary and middle school students participating in their afterschool program will create a digital brochure introducing their community to youth they think would like to move to their community.   We highly encourage that your program partner with a high school class/club/students (CTSO, Yearbook Club, Honors Society, etc) to help guide the afterschool students in their production/creation of this digital brochure. 
Why partner with high school organizations/students in this project?  High school students have a lot to offer afterschool programs—they contribute energy, expertise and appeal to younger students!  Further, high school students can serve as quality program staff for your program and help to fill the staffing shortage that so many programs are facing.  This project is an opportunity to begin building a partnership with your local high school—and helps to strengthen existing high school partnerships for programs that already have this connection in place. 
Activity Overview  Working as a team, afterschool students will select important places and aspects of their community to highlight. The brochure should include brief descriptive text and images that the students take themselves and, if needed, downloading appropriate images from the internet. The product should be digital – something that can be shared in a pdf.  Students may use powerpoint or other presentation platforms. The digital product involves inserting photos, writing and placing captions and descriptions, quotes, and creating effective headlines.
The finished piece should be thoughtfully laid out, easy to read and effectively organize and present highlights of their community to visitors.