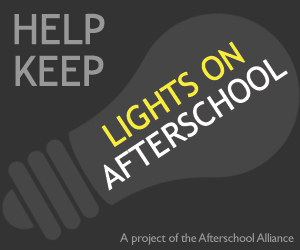 Celebrate Lights On Afterschool in Nebraska!
On October 26th, 2017--and throughout the month of October--take time to celebrate "Lights on Afterschool" in Nebraska!  Launched in October 2000, Lights On Afterschool (LOA) is the only nationwide event celebrating afterschool programs and their important role in the lives of children, families and communities. The national effort is organized by the Afterschool Alliance has become a hallmark of the afterschool movement and generates media coverage across the country each year.  LOA events send a powerful message that millions more kids need quality afterschool programs.  Governor Ricketts recently signed a proclamation declaring the week of October 26th, 2017 as "Nebraska Lights on Afterschool Week".  Please view the proclamation below.
Visit the LOA resource and planning section of the Afterschool Alliance website for planning guides, event ideas, tools to engage policymakers and community members, and much more.
Click here for information about various LOA events in Nebraska afterschool programs.